QIEVO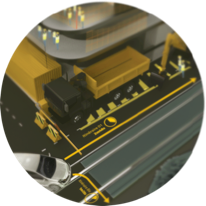 Urban construction sites have a poor image: they are ubiquitous, disruptive, noisy and endless. Colas, whose core business is road construction, is facing issues of acceptability of its worksites daily. Poorly planned and managed, the logistics flows of construction sites are a source of disturbances and often interfere with urban traffic. To meet the expectations of users and local communities, Mobility by Colas has developed QIEVO, a digital service that optimizes mobility around construction sites in high-density urban areas.
QIEVO's objectives
Facilitating mobility around complex multi-operated construction sites,

Mitigating the disturbances caused to users by directing construction trucks to dedicated routes and by reducing bottlenecks,

Providing an efficient and reliable planning system of site operations to manage site deliveries and availability of lifting equipment,

Setting up an efficient monitoring tool for the local organizing authority and providing an additional input to the local traffic control center.
How does the QIEVO tool work?
To optimize the traffic flows in and around construction sites, Mobility by Colas uses regional engineering analysis to develop digital and technological solutions (alternative mobility systems, management of worksite truck flows, route suggestions, etc.). It is a centralized system to manage logistics and accurately monitor indicators enabling to develop, in due course, a customized solution for each worksite.
The service includes several tools available to local mobility organizing authorities:
QIEVO - A centralized online scheduling platform and a dedicated logistics tool for construction sites
This online application streamlines the management of construction sites by coordinating deliveries from different suppliers and subcontractors, optimizing the use of delivery points, setting up a construction site logistics unit, etc.

QIEVO MOBILE - A navigation application for monitoring deliveries and communicating with the truck driver
Targeting delivery personnel, this application offers a high-performance navigation service for delivery vehicles, a means of direct communication with delivery personnel throughout the delivery process, as well as anonymous monitoring of compliance with the dedicated routes by the delivery personnel using geolocation.

A management and reporting tool for the manager of the QIEVO system.

Adapted and dynamic scheduling that streamlines the routing of delivery trucks and the allocation of vehicle flows to the different available parking solutions.