News archive
Mobility by Colas to roll out ANAIS digital service in the UK with Waterman Group
12.04.2023
As part of its multi-year motorway maintenance and response contract for Area 9 with National Highways, Colas Ltd, a subsidiary of Colas in the United Kingdom, will roll out the Anais service for a period of one year.
Created by Mobility by Colas, Anais will be up and running as of June and will be used on the entire network covered by the multi-year contract, i.e., a total length of 3,760 km of motorways and trunk roads around Birmingham. The service uses traditional road monitoring methods and enhances them with digital technology to identify potentially hazardous zones based on onboard driving data. After analyzing the data, teams at Colas make recommendations to the infrastructure managers on how to improve the potentially hazardous zones and to improve road safety through continuous monitoring of road asset.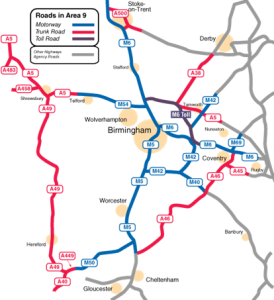 Mobility by Colas is rolling out the ANAIS digital service in the UK and for the first time on a motorway network, thanks to the collaboration with Waterman Group, a British engineering firm. For several months, Waterman Group worked on the contextualization of the data reported in order to take into account the particularity of the road network across the national highways network (speed, marking, direction of driving, etc.). The recommendations for infrastructure improvements that automatically follow are thus adapted to the UK market and meet the needs of National Highways for the implementation of preventive maintenance of road asset.

"We are always keen to find new ways to improve safety on our roads. Using this new source of data to support our current processes could improve our ability to target areas in need of maintenance, making journeys safer and smoother. As part of our Digital Roads project, we are embracing new ideas and technologies, and we look forward to seeing the results of this trial as well as the benefits it could bring", says Paul Elliott, National Highways' Head of Service Delivery for the Midlands.