Olympic Games 2024 - Soothing the construction sites at the Athletes' Village
Mobility by Colas coordinates "last mile" logistics for the construction sites of the Athletes' Village of the Paris 2024 Olympic Games, located in the municipalities of Saint-Ouen, Saint-Denis and Île Saint-Denis, north of Paris. Mobility by Colas is bringing its joint "just-in-time" delivery organization service, Qievo (renamed Fluidéo under a white label), to operators and companies involved in this gigantic ZAC.
ISSUES
Construction of the Athletes' Village, due to start in 2021 for delivery in early 2024, will have an impact on traffic, public spaces and, more generally, on the quality of life of local residents and economic players.
PROJECT OBJECTIVES
Reduce the impact of site logistics.
Avoid annoying truck parking around construction sites.
Soothe the delivery driver's job.
Improve safety for local residents.
HOW IT WORKS
Qievo's approach, named Fluidéo for this project, is based on a central control station operated by agents in liaison with construction sites and delivery personnel. Its ecosystem approach breaks down the barriers between logistics, traffic management and infrastructure.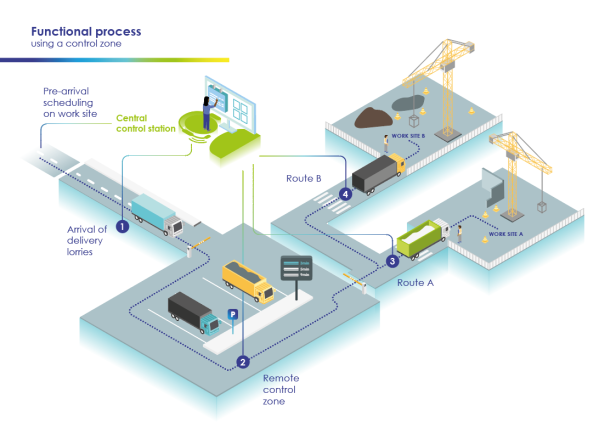 ESSENTIAL FUNCTIONS
An application for drivers/delivery personnel, informing and redirecting them in the event of unforeseen events (traffic, worksite, etc.).
Management of flows linked to finishing work: parking and dropping off materials on worksites, avoiding queue-jumping, disruptive parking, risky traffic, etc.
Reports on actual use of routes, lay-bys, disruptive parking, avoided driving times and other key KPIs.
Generation and control of site access authorization, with registration of license plates and driver identities on site.